The Mobile Vet is a multi award winning veterinary practice, find out the full information on our accolades below.
BEST START UP BUSINESS (2013)
---
Ready For Business Awards Following on from the Mobile Vets win in the Regional awards for best start up business to consumer business of 2013 Kirsty and I travelled to the Houses of Parliament for the National Finals where we competed against other Regional finalists for the best National start up business to consumer business of 2013 and were announced winners! Obviously we are shocked and excited. The Mobile Vet has only been in action for 6 months now and to even be recognised and nominated for an award is mind blowing. Award winners are decided by business persons from various different business backgrounds who assess each business on their own merits. We feel blessed already to have had such a great reception from the Island residents since providing this service, this really is the icing on the cake and hopefully reflects our willingness to continue to strive to provide the best service that we can for our clients. We can not thank everyone enough fortheir support in helping us to achieve this recognition. The award is dedicated to all you people out there and we are extremely proud to have done the Isle of Wight proud at the National Awards Ceremony.
---
YOUNG ENTREPENUER OF THE YEAR ( 2014)
---
IOW Chamber of Commerce We were fortunate enough to receive the chamber of commerce young entrepreneur award at a ceremony on Friday night. I am particularly pleased about the "young" part! Thank you as ever to all our clients for your support and our staff for covering the on call for Kirsty and myself.
---
EVERLINE FUTURE 50 (2014)
---
An invitation to a party night in London with comedian Seann Walsh hosting was the result of the Mobile Vet being announced one of Everline's Future 50 businesses in February 2014. The final 50 was announced at a party in Old Street - the heart of London's startup scene. The 2014 entries were as diverse as they were brilliant, showcasing businesses poised to revolutionise the way we do just about everything. Having the guts and determination to get a groundbreaking new business up and running is no mean feat so a huge congratulations to everyone on the list. There was serious competition to make the 50 this year so our judges had a very tough job. Russell Gould, managing director of Everline, said: "We had hundreds of high-calibre entries to this year's Future 50, showing that small businesses are continuing to find innovative ways to drive the UK economy." "The UK continues to prove itself as a hub of innovation and we're really proud to support and celebrate the achievements of these businesses and wish them every.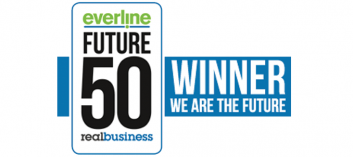 ---
GROWING BUSINESS AWARDS (2015)
---
Very proud to anounce that the Mobile Vet has beaten off stiff competition to win Micro-business of the year at the 2015 Growing Business Awards in London. Special thanks to Kirsty's brother Andy who collected the award on our behalf and delivered a sterling, impromptu speech! Created by Real Business, held in association with Lloyds Bank and supported by the CBI, the Growing Business Awards celebrate the best of British business and the entrepreneurs that power the UK's fastest growing companies.
---
QUEEN'S AWARD FOR ENTERPRISE IN INNOVATION (2016)
---
Our greatest achievement to date without a doubt, read on for press release... As the Mobile Vet approaches its third year since launch, husband and wife team of Dan and Kirsty Forster are very proud to have had bestowed upon them a queens award for enterprise in innovation. The Queen's Awards for Enterprise is an awards programme for British businesses and other organizations who excel at innovation. They are the highest official UK awards for British businesses. Kirsty and Dan recently received correspondance informing them of the achievement: "I am delighted to inform you that Her Majesty The Queen has been graciously pleased to approve the Prime Minister's recommendation that your organisation should receive a Queen's Award for Enterprise in Innovation this year." Her majesty announced the business win on her 90th birthday on 21st April. Kirsty and Dan have been invited to Buckingham Palace in July for an official reception and to meet the Queen. Dan said "We have been fortunate enough to receive excellent feedback from our clients and enjoy an immense amount of job satisfaction with the way we work. A nod from her majesty is truly the crowning glory for our business. It just goes to show what can be achieved with exceptional hard work and effort, the love and support of family, friends and formidable staff. This award is for all these people that help to make our business great!" "We are very much looking forward to meeting the Queen and can't quite get our heads round it. Kirsty has spent hours looking for a dress and I am brushing up on my royal etiquette!"
After an exciting few years, we have recently employed an additional vet and consequently we no longer have a waiting list and have reopened the books. You can register online or by calling reception.
---
BEST MOBILE VET AWARD (2020)
---
We did it for the third year running!
---
BEST MOBILE VET AWARD ( 2018)
---
Lovely to be recognised for our customer service... Press release below: The Mobile Vet has been crowned Best Mobile Vet Practice in the Best UK Vet 2018 Awards, after achieving the most top-rated client reviews over the past 12 months in this category. Vet practices across the UK have been taking part, encouraging pet-owners to leave reviews on www.VetHelpDirect.com and www.Any-UK-Vet.co.uk. The award reflects The Mobile Vet's dedication to customer service and outstanding care, with over 100 four and five star reviews. Comments left by happy clients include 'The Mobile Vet always gives above and beyond expected care', 'An amazing company with the most caring vets you could wish for' and 'With no transport ourselves to reach a vet, the mobile vet service brings peace of mind'. Unsurprisingly the practice is thrilled with the result, and commented "We are delighted to receive this award. Exceptional customer service is our driving force & achieving recognition for it highlights the staffs dedication & hard work to receive such great feedback from our clients."
---
BEST MOBILE VET AWARD (2019)
---
The Mobile Vet has won the Best Mobile Vet Award 2019 for the second year running. The awards organised by VetHelpDirect.com and running for the seventh year, are based on genuine pet owner reviews of veterinary practices around the UK. The practices with the highest number of four and five star reviews from their customers over the last year are then rewarded. Susie Samuel, managing director of VetHelpDirect.com commented: "When animal owners are searching for a vet they want a professional, clean, friendly practice that is good value for money, delivers top customer service and that will above all care for their pet or animal. This is why word of mouth is so important both for local pet owners and farmers. Authentic online reviews give all animal owners a genuine feel for the practice and help them to find a trusted, local vet more easily. We are proud to be able to reward those that are at the top of their league and receive the most positive reviews." Dan Forster, director at Mobile Vet Ltd commented, "The concept of a mobile vet that provides all the services a traditional vet does is brand new to the UK, so it is fantastic to be recognised as leading the way in this new field. Reviews are such an important part of our business and it is such a great endorsement to win this award based on customer feedback."
---
---